TikTok is a popular social media platform that allows users to create and share short videos. The platform also offers a paid advertising platform, TikTok Ads Manager, that allows businesses to create and run targeted ads.
Here are some reasons why you might want to delete your TikTok Ads Manager account:
You no longer need to run ads on TikTok.
You are changing your business model and no longer need to advertise on TikTok.
You are having problems with your TikTok Ads Manager account.
If you are not sure whether or not you should delete your TikTok Ads Manager account, you can contact TikTok support for assistance.
How to Create a TikTok Ads Manager Account
TikTok Ads Manager is the one-stop shop for running and managing paid ad campaigns on TikTok. It gives you all the features you need to launch effective ads, drive conversions, and measure performance. It's affordable and easy to use.
This article provides step-by-step instructions to create your TikTok Ads Manager account, from account registration to account setup and approval.
1. Create a login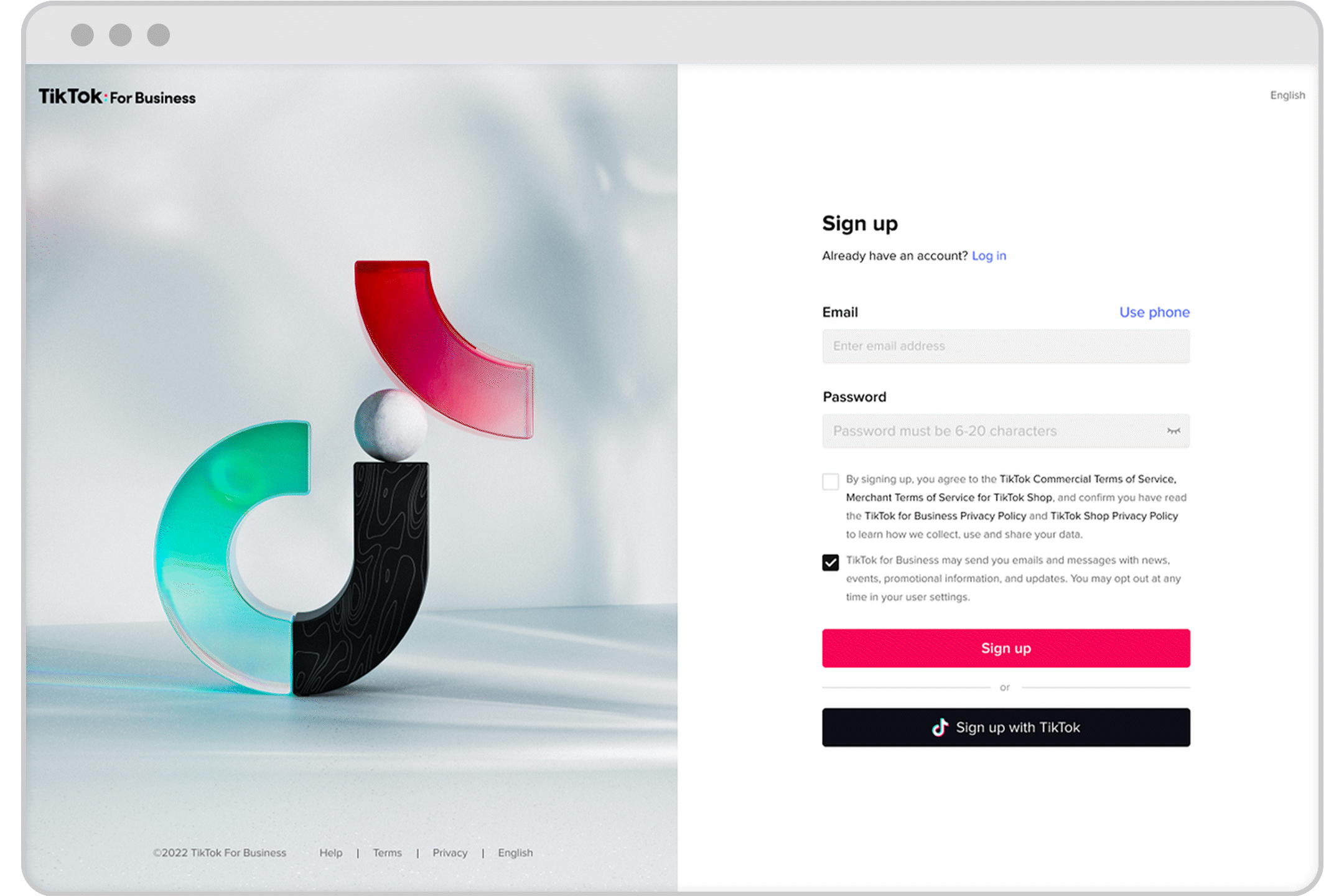 Go to https://ads.tiktok.com/i18n/signup/ to start the process.
Create a login using an email address or phone number and set a password. These are your login credentials. You will need to use them to access your TikTok Ads Manager account.
After you agree to the TikTok terms & conditions and click Sign up, you will be asked to verify a code sent to the email or phone number provided.
2. Create an advertiser account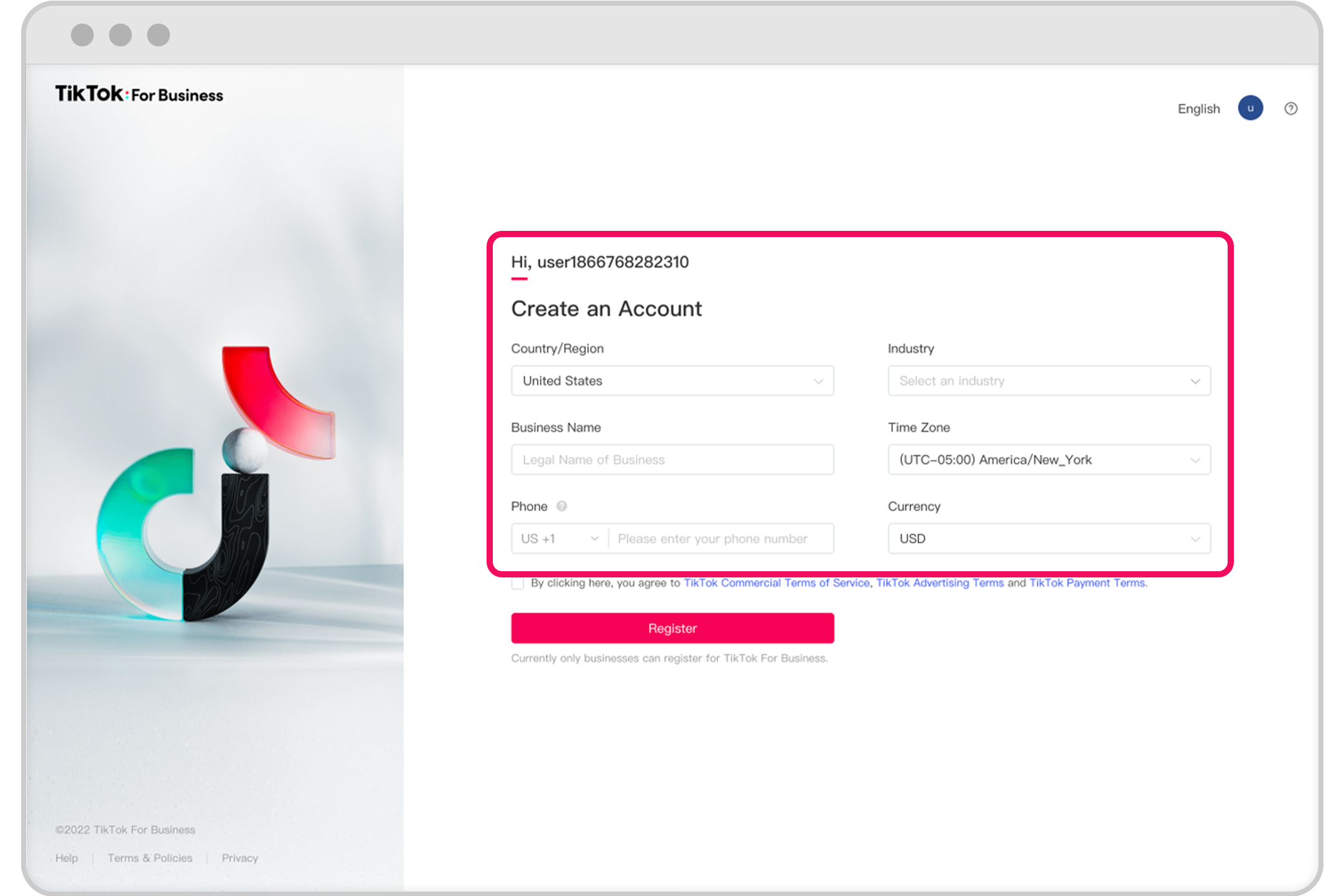 Provide basic information about your business, including the following:
Country or Region – We give you the best experience based on your local regulations and requirements.
Industry – We'll give you more relevant and effective advertising tips.
Legal Business Name – We use this to verify your business for legal and billing purposes. If your "Business Name" does not match the actual name of your business, your account will be disapproved and it may be harder to access other TikTok for Business tools.
Time Zone – We sync your campaign reporting and scheduling to match your time zone. It may be hard to change this later.
Phone Number – We contact you at this number to provide you with information on how to optimize your ads.
Currency – We bill you and display budgets based on this.
Agree to the terms and click Register.
Note: Depending on where you've registered your account, you may have the option to submit documents to verify your business identity. To learn more, refer to About Business Verification.
3. Set up billing information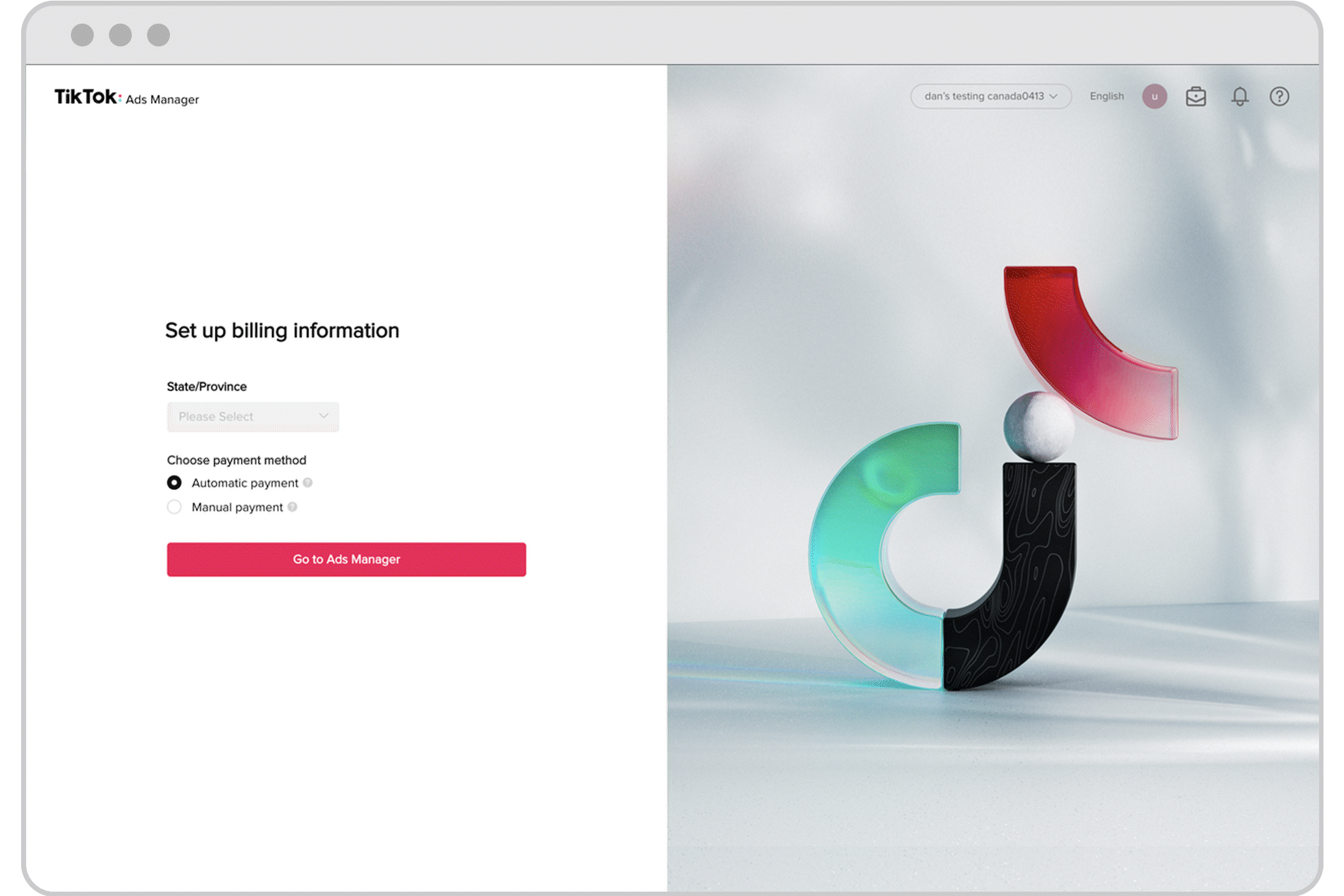 Provide info related to billing and payment on this page.
Your country's requirements will determine the exact information needed, it may include your billing address and tax information.
Note: Your ad account will be automatically submitted for approval after you complete steps 1-3. Your ads will not run until your account is approved, but you will be able to build campaigns on Ads Manager. Most account reviews take less than 24 hours. You can check your account approval status under Account Settings, then Account Info. To learn more, refer to Account Approval FAQs .
4. Build your first campaign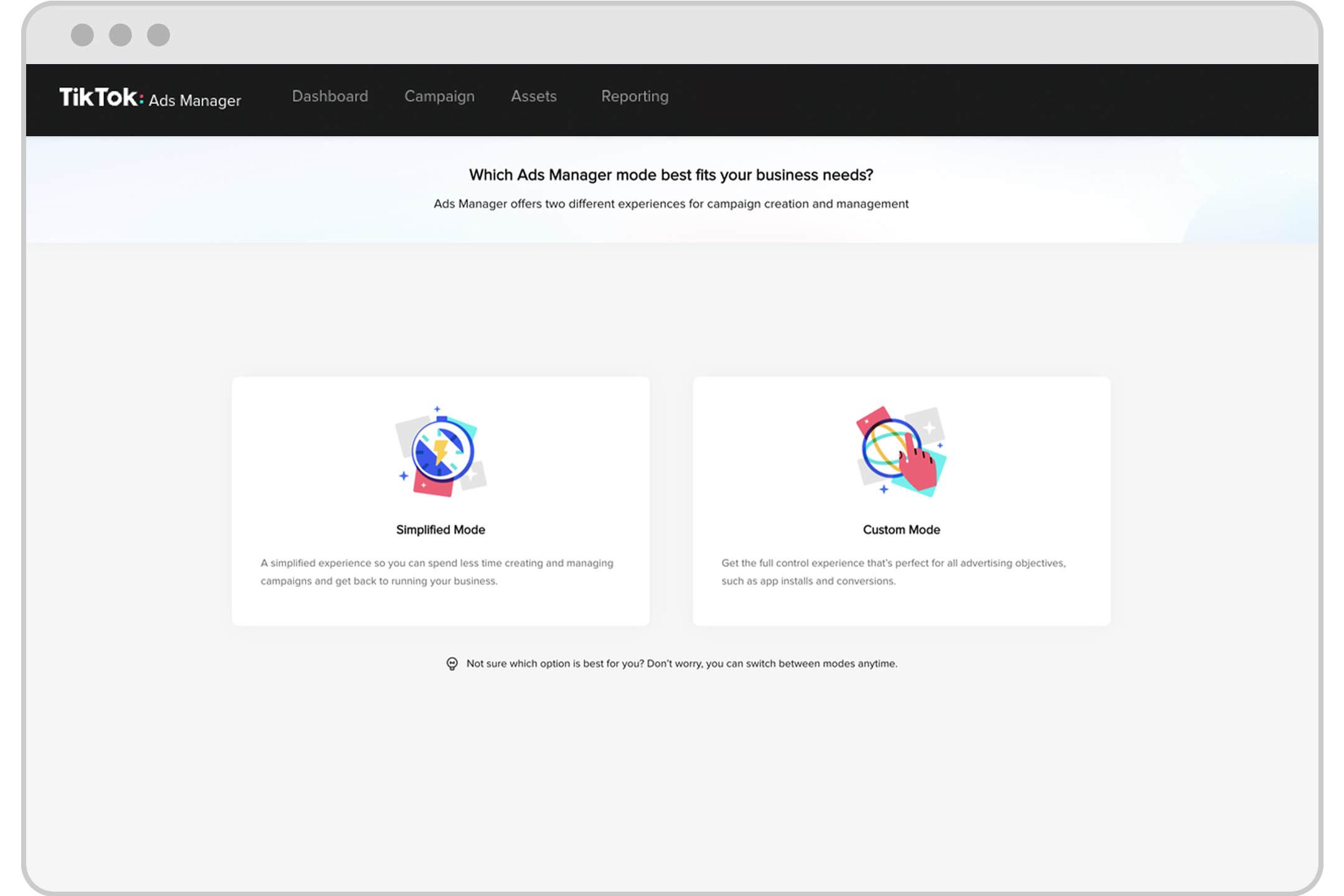 Choose a mode that works best for your campaign creation needs:
Advertisers who are new to running online ads or who are looking for immediate campaign creation may find the Simplified Mode a good fit.
Advertisers who want more advanced options and control in campaign creation may find Custom Mode a good fit.
Follow the steps in the mode that you selected to create your first campaign.
5. Submit your first ad and finish payment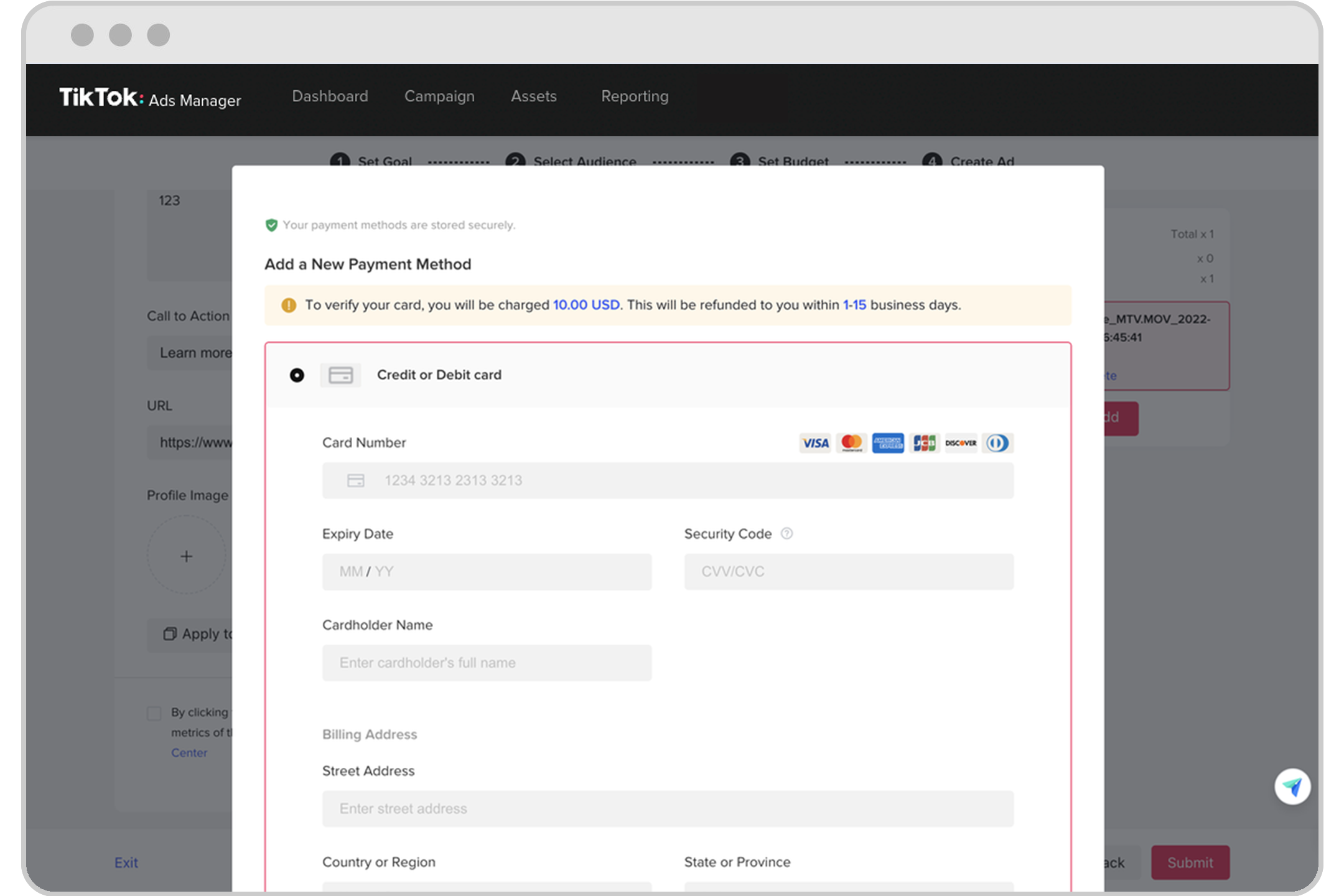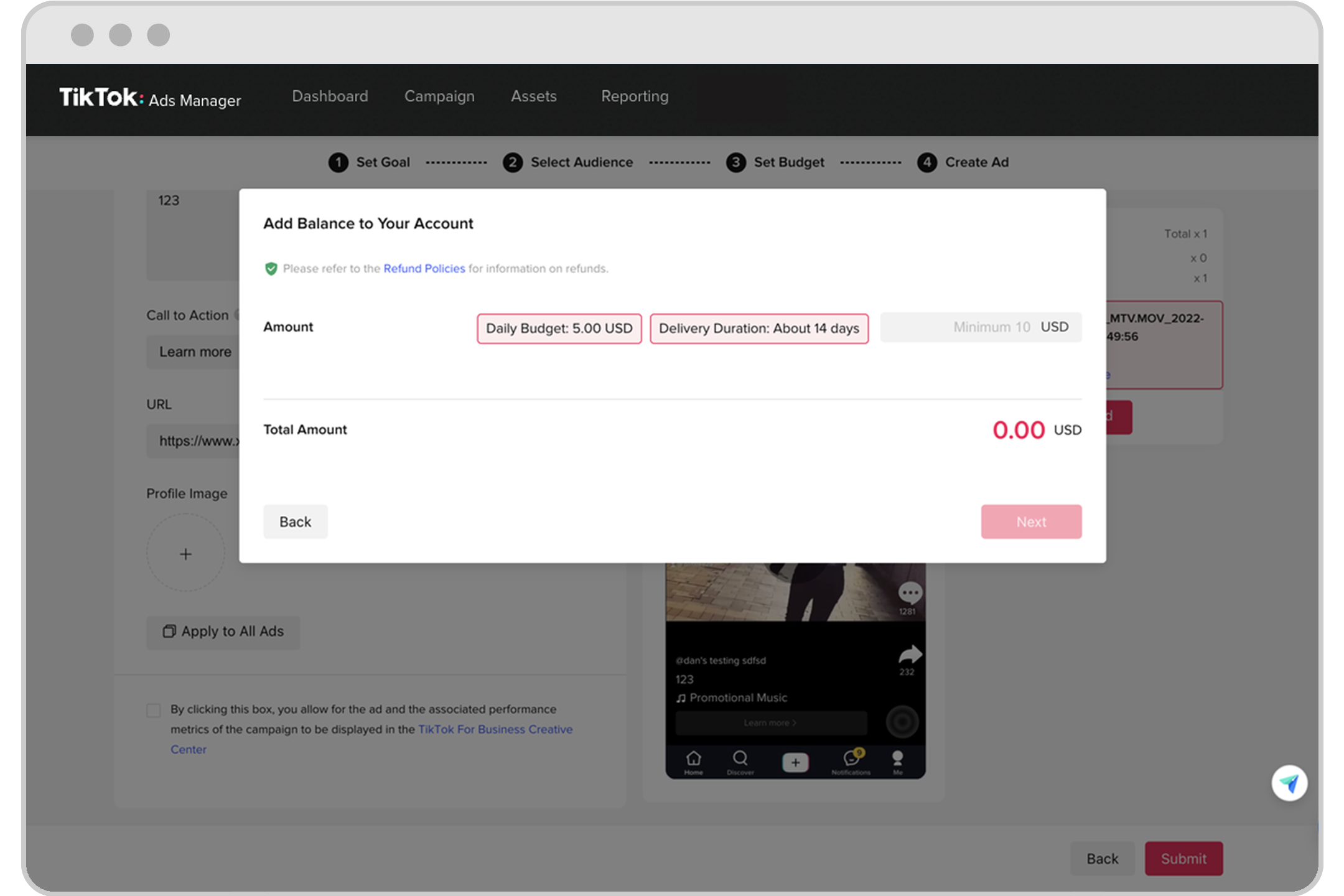 After you submit your first campaign, Ads Manager will check your billing and payment information. It may prompt you to confirm the details and add a payment or balance to your account.
To ensure a safe and user-friendly environment, they will review your ad before it goes live. For more information on ad reviews, refer to Ad Review FAQs.
6. Celebrate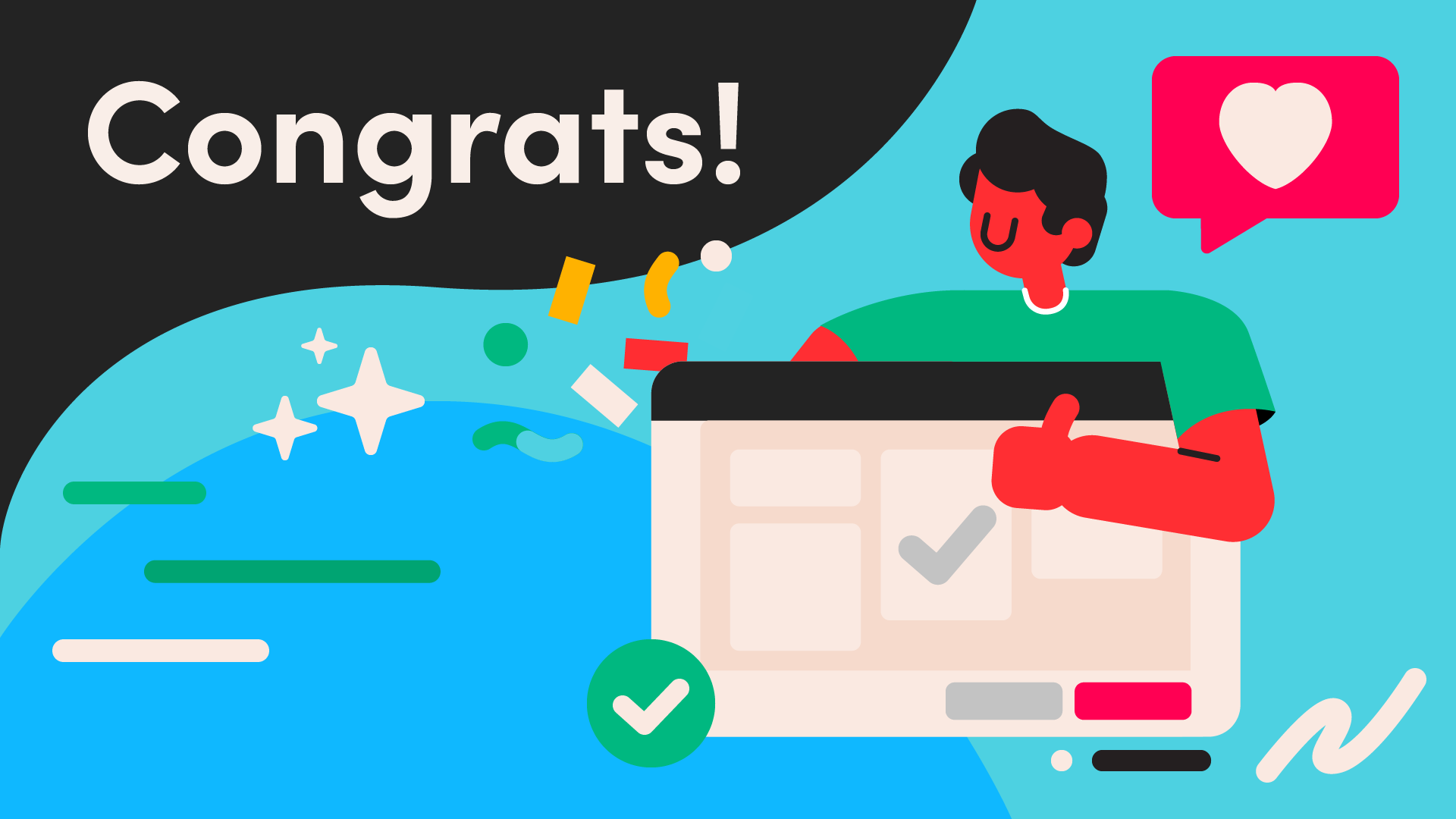 Congratulations on setting up your TikTok Ads Manager account and running your first paid campaign!
Note: To create a safe experience for our users, and comply with local regulations, please know that there are several industries and products that cannot be promoted using TikTok Ads Manager. For a complete list of the prohibited products and services in each market, see TikTok Advertising Policies – Industry Entry.
How to Delete TikTok Ads Account
If you want to close your TikTok Ads Manager account, you can do so from the Account Setup page. When you close your account, you will receive a refund for any balance left on your account.
Who can close their Tiktok accounts
​All accounts that are in good standing are eligible to close their account and collect their refund. ​You will be unable to close your account if it is suspended.
If your account is currently suspended, you may appeal it. If you successfully appeal your suspension, you can close your account. For more information, see About Account Suspensions.
How to close TikTok account
Login to TikTok Ads Manager.
Click the profile avatar and click Account Info.
From the Account Setup page, go to the Account module.
From there, click Advanced Settings.
Next, click Close Account and Refund.
From the Confirm Account Deactivation popup, click Confirm.
Once you have completed this, we will close your account and refund your account balance through the original payment method within 60 calendar days. For more information, see Refund Policies.
Impact on other TikTok For Business products
Closing your TikTok Ads Manager ad account will not affect your other TikTok For Business products. You will still be able to use your TikTok For Business login to access other products like TikTok Business Center.
Here are some additional tips for deleting your TikTok Ads Manager account:
Make sure that you have saved any important information from your account, such as your ad creatives, before you delete it.
If you have any active campaigns, you will need to pause or cancel them before you can delete your account.
Once you have deleted your account, you will not be able to recover it.